Hi!
It's a pleasure to meet you.
When she was little, the only thing Rachel wanted to grow up to be was a rockstar. Rachel didn't have an ounce of musical talent but wanted to have a platform to change the world.
At Rockstarr & Moon, Rachel built a company that embodies these dreams. She is dedicated to energizing and reshaping the marketing landscape for small businesses, medium organizations and large corporations. Rachel delivers results and helps businesses thrive.
Bono may have said it best, "As a rockstar, I have two instincts. I want to have fun and I want to change the world. I have a chance to do both." Since inception, Rockstarr & Moon has been helping start businesses, grow them and become successful.
Rockstars bring your audience to their feet, generate engagement and shatter expectations. That's what she delivers at Rockstarr & Moon.
Take it from her network:
"Rachel is an absolute rock star!"
"Rachel is a creative force of nature. More importantly, she gets sh*t done."
"She's the kind of voice you want representing your brand or your initiative."
"Rachel is a full-service operation with boundless energy, whatever she touches she will bring into fruition."

Support Cancer Warriors Undergoing Chemotherapy
At Beyond Basic Needs, we provide hope to those in need.
For Cancer Warriors undergoing chemotherapy, we provide Chemo Care Kits at no charge to cancer warriors undergoing chemo.
A Chemo Care Kit contains a port pillow, compression socks, lip balm, and a variety of goodies that these warriors deserve.
A Port Pillow protects the port from the seat belt.
We believe these kits inspire, uplift, and help our community thrive during this challenging time.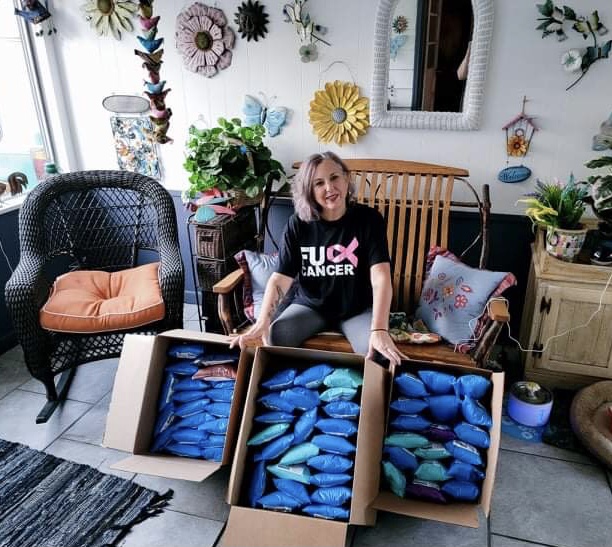 Meet our partner Michelle who fulfills the incoming requests.